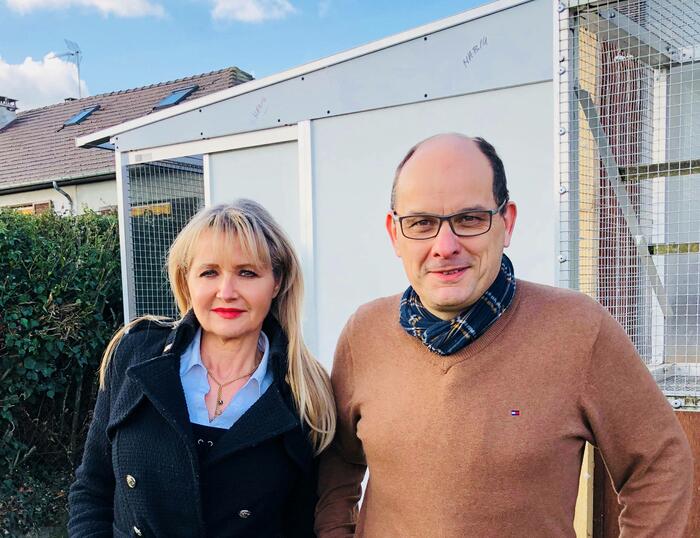 Véronique & Martial Maindrelle.
A stunning start to the year
The season achieved in 2017 by the flying doctor and his birds was really a good one, at the same level of the previous ones. The start of the season was brilliant with a brand new qualification for the Olympiad, held this time in Brussels. For our friend Martial, it was a must to bring his best birds to this country which is still considered as the cradle of the pigeon sport worldwide. For several years, he has been considered in France as one of the pioneers of his generation, with a certain desire to turn towards the international pigeon scene to help the French pigeon sport to receive the notoriety it deserves. That's how he booked the qualifications for the most prestigious European competitions one after one (a.o. the Olympiads, the European Cup) while he also shone during the Algarve Golden Race, the most prestigious one loft race in Europe where he won the second place during the final in 2016. Martial would also like to enter his birds in the international races as these races became really appreciated over the last few years in France but his geographic situation doesn't allow him to enter his birds in all the races from the calendar. As he lives in Caen in the famous historic area of the Normandy, he can only race Narbonne and Perpignan. These two races are in fact his next target and several investments were made recently to get the best results possible. The future will tell us if his pigeons born from the new crossings will be able to shine at the long distances.
Anyway, the doc, well helped by his companion Veronique, stays focused on the races from the racing program of his area, the Calvados, and from the 3rd French region.
He became the one to beat and he can book a victory from the very first race of the season up until the last one, thanks to a wonderful racing team made up of several stars and whose flag bearer is the exceptionnal Olympic Nico. In January 2017, this super crack qualified for the third international competition of his career when he went to Brussels for the last Olympiad as first French pigeon for the category D. Enough to put him once again under the spotlight:
Olympic Nico (FR12-105008)

1. Pigeon Pre Olympic France Cat A (Brno 2014)
1. Olympic Pigeon France Cat A (Budapest 2015) - 20th mondial
1. Olympic Pigeon France Cat D (Brussels 2017)
1. Provincial Ace Pigeon '14
1. Vivonne      791 p. '15 (303 km)
1. Poitiers     728 p. '13 (286 km)
2. Poitiers   1,589 p. '13 
2. Poitiers   1,072 p. '13
2. Fontenay     652 p. '13 (295 km)
2. Poitiers     618 p. '13
3. Cognac     1,084 p. '14 (380 km)
3. St Yriex     446 p. '14 (416 km)
4. Langon     1,960 p. '15 (508 km)
4. Poitiers     849 p. '13
5. Vivonne    1,278 p. '16 
6. Bergerac   1,825 p. '15 (478 km)
6. Ruffec     1,274 p. '13 (345 km)
7. Ste Maure  1,380 p. '16 (235 km)
7. Jarnac     1,342 p. '13 (380 km)
8. Niort      1,540 p. '13 (309 km)
9. Niort      2,447 p. '16
10. St Yriex  1,575 p. '16
Click here to check his pedigree.
The racing campaign 2017
This season will stay as a very good one with the presence ahead of the results up until the end of the season. In his combine of the Calvados, Martial ends as 1st champion sprint with five different titles of ace pigeon (1st General Ace cocks, 1st General Ace hens, 1st Sprint Ace, 1st Middle Distance Ace & 1st Yearling Ace). In the championships of the 3rd region (same as a Belgian provincial level), he won the title of 1st Champion Yearling as well as 1st & 2nd Ace Yearling. Then, there is the rankings booked in the French national championships with the following balance:
12. National Ace pigeon 300-500km (Miss Salsa)
15. National Champion 300-500km
25. National Ace pigeon 100-300km (Miss Salsa)
Miss Salsa (FR15-240643)
Comme vous pouvez le constater à la lecture des classements nationaux, la sensation de la campagne 2017 n'est autre que la femelle baptisée 'Miss Salsa'. Cette dernière a remporté les classements suivants:

1. General Ace Pigeon 2017 - 'Groupement du Calvados'
1. Ace Pigeon Sprint 2017 - 'Groupement du Calvados'
2. Ace Pigeon Middle Distance 2017 - 'Groupement du Calvados'
12. National Ace Pigeon 300 - 500 km
1. Souzay     490 p. '17
2. Vivonne  1,278 p. '16
2. Fontenay   685 p. '17
3. Ruffec     905 p. '17
3. Vivonne    754 p. '17
4. St-Maure 1,196 p. '16
5. Roullet  1,170 p. '17
5. Vivonne    497 p. '17
...

Click here to check her pedigree.
When you take a look at her pedigree, you can learn one important thing: Miss Salsa shares something with Olympic Nico: his father. This fantastic racing hen is then a half-sister of this another exceptional pigeon, flag bearer of the Maindrelle loft. It proves that the best pigeons are not bred by surprise. Their father is called Mr Tango, an original pigeon from Nico Van Nordenne and bred at 50% from Ludo Claessens, the former star of the Dutch pigeon sport.
Mr Tango (NL10-1700854)
Father of a.o.:
- Olympic Nico
- Miss Salsa
- Nikos (1. Poitiers 1,072 p.)
- Marignan (1. Bergerac 1,334 p. & highest speed 2,955 p.)
- ...
Father: Latino, super pigeon from Nico Van Nordenne, 4 x 1st from 800 until 4,100 pigeons, himself son of Torero (1st National Ace Middle Distance NPO in 2004).
Mother: Super 45, original Ludo Claessens and also mother of Moto GP (super racer for Nico Van Nordenne). It's a direct daughter of the famous Super Vedette (1. Orléans NPO 9,096 p. & 1. St-Quentin 3,889 p.), himself son of the no less famous Jonge Supercrack from Ludo Claessens, one of his most emblematic pigeons.
Click here to check the pedigree of 'Mr Tango'.
It's needless to say that this pigeon was worth trying in the breeding loft!
The best and only the best
Martial Maindrelle is quite a perfectionist in the way he spents time in his hobby and he only wants to work with the best breeding lines available. Each year, he introduces something new in his breeding loft but always in a single way and only from the best he can get. Over the last few years, he made several co-breedings with the Dutch champion Nico Van Nordenne (the breeder of Mr Tango, father of Olympic Nico & Miss Salsa). Nico Van Nordenne is also extremley satisfied with the pigeons he received from Martial and the coming years should confirm to him that he was right. The same process is done with several other famous Belgian lofts such as Ruben Lanckriet, Adrien Mirabelle, Joost De Smeyter, Tomasz Wiczling and, more recently, Team De Jaeger. Time will tell if it will be a wise move for each of these lofts but we can't doubt it.
Best results in 2017

07/05 Cholet (229 km) - 1,448 old birds:
1-2-5-7-32-38-65-88-107-110-114-115-... (17/43)
04/06 Ruffec (345 km) - 905 old birds:
1-2-3-4-5-6-7-8-9-10-15-16-18-20-21-24-25-26-28-29-34-37-49-51-58-66-67-70-72-82-83-... (42/46)
11/06 Fontenay (295 km) - 685 old birds:
1-2-3-9-29-30-34-38-41-42-52-62-64-... (22/29)
25/06 Saumur (192 km) - 1.214 old birds:
5-6-8-9-11-15-26-28-39-40-41-42-43-46-47-51-52-53-54-55-59-66-67-70-77-82-104-107-108-... (47/64)
09/07 Souzay (212 km) - 490 old birds:
1-5-10-11-13-16-20-31-32-33-... (12/18)
15/07 Marmande (511 km) - 493 old birds:
2-4-17-29-43-45-... (11/16)
15/07 Marmande (511 km) 3e Region - 884 old birds:
2-4-20-33-48-51-58-67-84-... (11/16)
15/07 Marmande (511 km) - 409 yearlings:
1-2-4-5-9-11-14-35-38-... (10/14)
15/07 Marmande (511 km) 3e Region - 720 yearlings:
1-2-4-5-9-11-14-39-43-... (11/14)
23/07 Vivonne (304 km) - 497 old birds:
5-6-7-8-17-19-22-25-27-35-36-38-48-49-... (21/29)
Congratulations to Martial and Véronique. Maybe should we already make an appointment for the coming Polish Olympiad in 2019?