Two auctions closed last Sunday: Team De Jaeger sold their best birds in auction (2011-2017), and there was also a minor auction of Jan Hooymans. The two auctions raised 952.350 euro in total, with an average of 3,132 euro/bird.
Zondag eindigden 2 veilingen. De eerste was de veiling van de beste duiven van Team De Jaeger (2011-2017) en we eindigden met een kleine veiling van Jan Hooymans. Totaal voor de 2 veilingen vandaag werd 952.350 EURO voor 304 duiven, gemiddeld 3.132 EURO/duif.
Team De Jaeger – 293 pigeons – 3,010 euro/bird
Team De Jaeger has had some fantastic seasons in recent years, winning several 1st national ace pigeon titles KBDB, and most importantly an international first prize from Barcelona in 2018, a particularly difficult race. With so many great results to their name, Team De Jaeger decided it was time to sell their best pigeons on PIPA.
It is quite rare for an international first prize winner from Barcelona to be sold in auction, so pigeon fanciers were eagerly awaiting the sale of Lloyd. He was sold as sale 1, and he received a bid of 150,000 euro after just a few hours. The sale price remained unchanged until the last but one day, and bidding picked up again in the closing 24 hours. Two Chinese fanciers were in contention with Batenburg-Van de Merwe, and it was the latter who took the winning bid of as much as 254,000 euro. It is the most expensive winner from Barcelona ever to be sold. This pigeon will be joining an already impressive collection of international Barcelona winners in the loft in Klaaswaal:
New Laureaat: 1st Int. Barcelona 2013
Special One: 1st Int. Barcelona 2015
Sumerian Fighter: 1st Int. Barcelona 2017
Lloyd: 1st Int. Barcelona 2018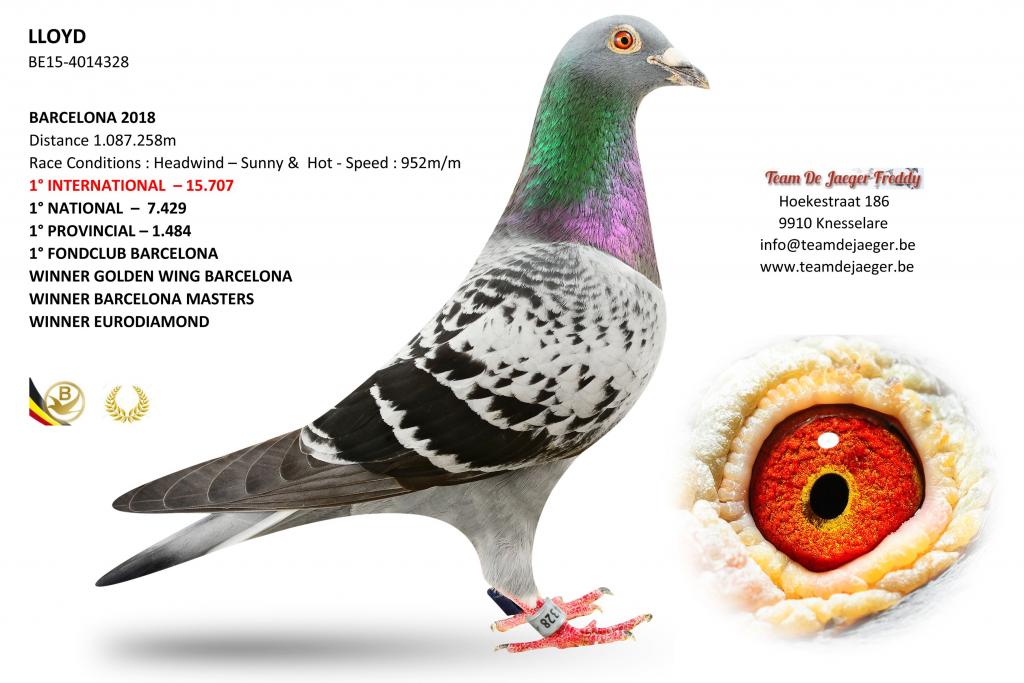 The parents of Lloyd were sold about an hour later, as a couple, and they went to a Chinese fancier for 51,000 euro. The second most expensive pigeon in auction, after Lloyd, was Bleke Bourges, winner of a 2nd National Bourges. He is also moving to China, with a sale price of 104,000 euro. The entire collection of De Jaeger pigeons was sold for 881,950 euro in total.
The 293 pigeons will be moving to several different countries: China (73), Belgium (72), Taiwan (51), Japan (21), Sri Lanka (19), Romania (9), the United Kingdom (8), France (7), Germany (7), Thailand (5), The Philippines (4), The Netherlands (4), Poland (2), Iraq (2), Canada (2), Albania (1), Argentina (1), Spain (1), Italy (1), USA (1), Portugal (1), and Greece (1).
Jan Hooymans – 11 pigeons – 6,400 euro/bird
The second auction of the day was the Hooymans auction, in which Jan sold 11 unflown pigeons. Among them were a few eye-catchers, including for instance the only youngster of Birdy ever to be sold in auction. He goes to China for 14,600 euro. The most expensive pigeon in auction is a son of Harry, paired to a wonderful daughter of Birdy; he was sold to China for 23,000 euro. Eleven pigeons were sold for 70,400 euro in total, to fanciers from China (3), Taiwan (2), The Netherlands (2), the USA (1), Poland (1), Italy (1) and India (1).